GÁBRIEL, Dóra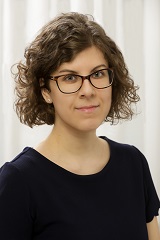 Junior Research Fellow
- International migration
- Migrant remittances
- Ageing

Contact
e-mail: gabriel@demografia.hu
tel: +36-1-345-6833

Publications
Gábriel, D. (2020). Negotiating Working Conditions - Hungarian care workers in the Austrian Live-in Care Sector. In Katona, N. & Melegh, A. (Eds.). Towards a scarcity of care? Tensions and contradictions in transnational elderly care systems in central and eastern Europe. (pp. 115–143.) Friedrich Ebert Stiftung, Budapest.
Aulenbacher, Brigitte ; Ezzedine, Petra ; Gábriel, Dóra ; Leiblfinger, Michael ; Milankovics, Kinga ; Prieler, Veronika: Facing COVID-19: Live-in Care in Central Europe. GLOBAL DIALOGUE 10: 3 pp. 0-0. , 1 p. (2020)
Melegh, Attila - Gábriel, Dóra - Gresits, Gabiriella - Hámos, Dalma (2018): Abandoned Hungarian workers and the political economy of care work in Austria. Review of Sociology of the Hungarian Sociological Association 28(4), pp.61-88.
Gábriel Dóra – Gresits Gabriella – Melegh Attila 2018: Migrant narratives and biographies of Hungarian live-in care workers commuting to Austria. Research Highlights, no. 34.
Dóra Gábriel (2014): Migrant Remittance Practices among Hungarian Health Care Workers in Norway. Review of Sociology. Vol. 24. No. 4.