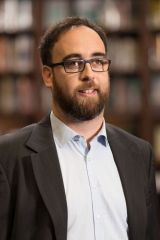 Research Fellow
- Population projection
- Life expectancy
- Fiscal policy
Contact
E-mail: toth@demografia.hu
Tel.: + 36 1 345 6089


Publications
Tóth, Csaba G (2021):  Multi-population models to handle mortality crises in forecasting mortality: A case study from Hungary. Society and Economy, Accepted Manuscript /Online First, AKJournals
Tóth, Csaba G. (2021):  Age- and Gender-Specific Excess Mortality during the Covid-19 Pandemic in Hungary in 2020. MPRA Paper 106948, University Library of Munich, Germany.
Tóth, Csaba G. (2021): Multi-population models to handle mortality crises in forecasting mortality: a case study from Hungary. Working Papers No. 36.
Losoncz, Miklós – Tóth, Csaba G. (2020): Government Debt Reduction in the Old EU Member States: Is This Time Different? Financial and Economic Review, 19(2), 28-54.
Lovics, G. –, Szőke, K., – Tóth, G. Csaba, – Ván, B. (2019). The effect of the introduction of online cash registers on reported turnover in Hungary. MNB Occasional Paper, No. 137.
Tóth, Csaba G. (2019): Valuable legacy? The effect of inherited fiscal rules. Public Choice 178(1-2), 3-30.
Tóth, Csaba G. (2017): The effect of national fiscal rules after changes of government. MPRA Paper No. 81178.
Tóth, Csaba G.- Berta, Dávid (2017): Fiscal rules. MNB Handbook No. 14.
Tóth, Csaba G. (2014): The forecasting capacity of indicators measuring budget sustainability. Public Finance Quaterly 59(4), 511-528.
Tóth, Csaba G. (2012): Debt Dynamics and Sustainability. Hungarian Statistical Review 90 (16), 123-149.
Tóth, Csaba G. (2010): Boosting demand by the state and automatic stabilizers. Public Finance Quarterly 55 (1), 51-69.